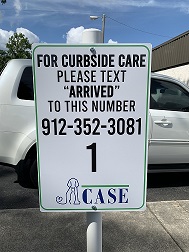 COVID-19 and Service Updates
We have implemented a Restricted Access Policy which suspends normal access to our building, giving only employees access at this time.
TEXT "Arrived" to (912) 352-3081 when you arrive and remain in your vehicle.
If you are experiencing upper respiratory symptoms or if you or a household member has been diagnosed with COVID-19 and your pet needs care, please alert us before your arrival to the hospital as the AVMA is recommending we contact the state public health veterinarian for directions on how to proceed.
We are currently treating pets that need healthcare. We ask you to reschedule non-essential appointments: grooming, bathing, and wellness or preventative care that is not immediately needed.
Case has switched to a Curbside Service, and we are currently having pet owners wait in their vehicles while our Doctors examine their pets. Clients are asked to remain in their vehicles and to call us upon arrival. After we talk with you by phone about your pet's needs, our team will send a representative outside to safely retrieve your pet. Please keep dogs on a leash, cats in a carrier, and limit the number of household members accompanying your pet, when possible. We will also bring you requested medications or food.
All conversations, paperwork and financial transactions will occur by phone or by email, limiting person to person contact in the parking lot when able. We have the option of securely storing credit cards on file. We prefer not to take cash transactions currently if at all possible.
Pets being picked up will be brought to your vehicle. Again, please call us upon arrival.
Please call ahead (or use our app or email) if you need food, refills or other purchases. We also offer home delivery of food or medications to your doorstep.
Please schedule all appointments via the phone, email, app, or our online portal.
We now offer TeleVet Telemedicine for existing and current patients. Check out the details here: https://www.casevet.com/telemedicine/
**Thank you to all of our amazing clients for your patience as we are adjusting to these new safety measures. Our goal is to remain open in order to keep your pets healthy while keeping you and our team safe during this uncertain time.
Related Links with accurate pet related information regarding COVID-19 (Corona Virus):
https://www.cdc.gov/coronavirus/2019-ncov/prepare/animals.html
https://www.avma.org/resources-tools/animal-health-and-welfare/covid-19
**There are no domestic dogs or cats in the United States that have been identified with the virus, and there is no evidence that dogs or other pets can spread COVID-19. In late February and early March, a pet dog in China that had contact with a person infected with COVID-19 tested weak positive to the virus through nose and mouth samples. It is now well over 2 weeks since this dog first tested weak positive, it is still being monitored closely, but still does not have any symptoms of illness.
However, out of an abundance of caution, the AVMA recommends you take the same common-sense approach when interacting with your pets or other animals in your home, including service animals. Should you become ill with the virus, tell your physician and public health official that you have a pet or other animal in your home. Although there have not been reports of pets or other animals becoming sick with COVID-19, it is still recommended that people sick with the virus limit contact with animals until more information is known about the virus. Again, while we are recommending these as good practices, it is important to remember there is currently no evidence that pets can spread COVID-19 to other animals, including people.**