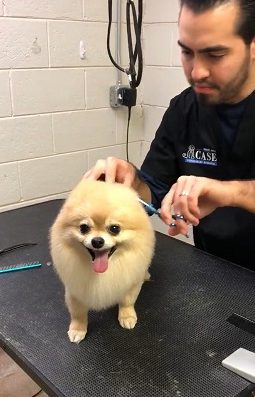 Services We Offer:
Dog Grooming
Sanitary and paw Pad Trim
Hydro-surge baths
De-shedding Program/Carding
Often times customers can become confused with the terminology we use here at the hospital. Hopefully, the following explanation will help you to understand our process and the care your pet will receive. Your groomer can also answer any questions you may have as well as price structure when you drop your pet off.
Pricelist of our Grooming Service
Basic Groom
 Full bath, dry, combing and brushing. Trim sanitary areas and paw pads. No scissors, no de-matting, cologne and bandana.
Full Groom
(Breed or Puppy Cut) full hair style cut (clipper, scissors), nail clip, ear cleaning, bath (with specialized shampoo depending on skin and hair condition). Cologne and bandana.
All prices subject to change.
De-matting
When a groomer says they will demat your pet, they usually mean they will brush the pet out as a part of the normal grooming process and will be billed out at $30/hour on top of the regular grooming price. There is an extra fee for this service and it is based on the amount of time it takes the groomer to remove the matts. The severity of some matts will necessitate the groomer shaving off the matt while taking special care not to damage the skin. Your groomer will let you know at check in what to expect for your pet.
Handling Fee
An extra fee will be charged to your grooming fee if necessary. Some pets need extra time taken with them if they are shy, aggressive, or extremely wiggly. Often times the groomer will need to have an assistant help with the process. Occasionally, a pet will need sedation. This is ONLY done by one of our veterinarians and with your consent.
Medicated Shampoos
Our normal shampoo used for the pets is Plum Silky and is available for our customers to buy over the counter for use at home. Other shampoos for skin problems and allergies can be requested or recommended by our veterinarians. These shampoos will have an extra charge associated with them.
De-Shedding/Carding
A fairly new procedure that many of our clients have found helpful with shedding problems is our carding program. Instead of shaving the pet, your groomer will go over the pet several times with a special tool to remove dead hair and some of the undercoat. This procedure can be repeated every few weeks although special care must be taken to not allow the haircoat to become too thin. This process is especially helpful for breeds like Golden Retrievers and Labs when clients do not want to resort to a full shave down.
Bath
Our bath process has a four hour turn-around time from your appointment. Your pet will have a hydrosurge massage bath, be hand dried, brushed out, ears cleaned, and toenails clipped.
Anal Glands and Teeth Brushing
Many clients ask our bathers and groomers to perform these services. Brushing a pet's teeth infrequently will not help with the tartar buildup and should be done on a daily basis to be effective. Anal glands can actually rupture if not done properly. For these reasons, we firmly believe that these services should be done by our veterinarians and veterinary technicians and not our groomers.